California is a state that is known for its engineering marvels and its contribution to the GDP of the country but it's also known for its stringent gun laws. California is the state that has changed gun laws and gun manufacturing forever. Its strict and severe laws have forced many gun manufacturers to make guns, magazines and even the accessories that are California compliant.
The main market of the state has been the assault rifles, which have been a common weapon in many mass shootings in recent times.
The main gun law that California State emphasizes on is to either have a 10 round magazine, which is detachable and have additional features to your gun like flash suppressor, Grenade launcher or pistol grip or have a fixed magazine that accepts more than 20 rounds but with no additional features.
Today, we will go through the best California legal AR-15 magazines to purchase at the best price.
1. HK-USP-C Magazine 8RD California legal .45 ACP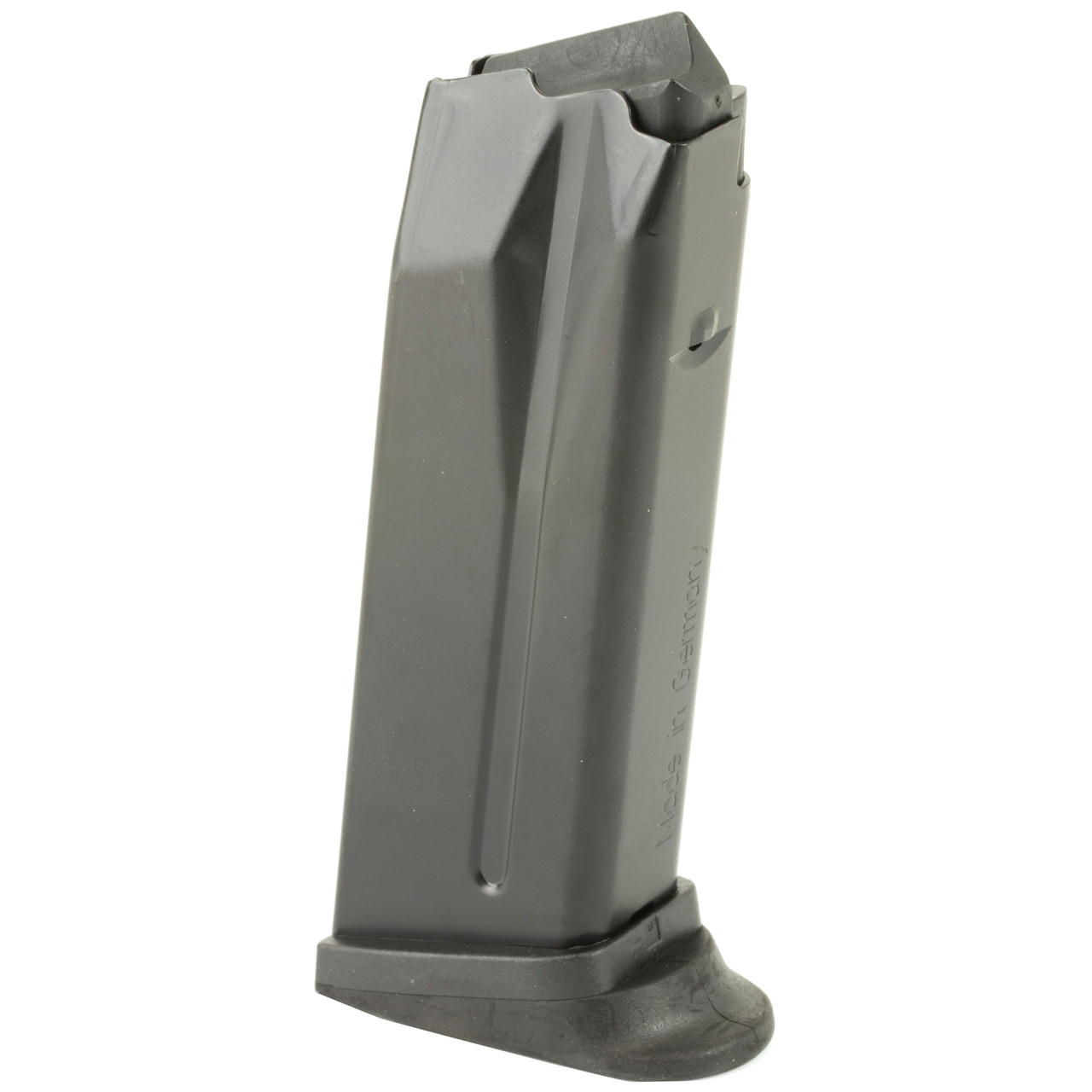 When it comes to pistols and handguns, Heckler and Koch is a well renowned name that all gun lovers trust and all gun owners love to boast about. Just like Heckler and Koch have manufactured various models of guns, USP-C is one of their top selling series.
The USP-C series are highly reliable, durable, made with superb quality and available at a great price point. This gun is ideal to conceal carry, recreational shooting, and self-defense as well as for law enforcing. The HK- USP-C 8Rd magazine is California compliant and can be fully integrated with USP-C as well as 45-C pistols.
The capacity of the magazine is 8 rounds which of course is acceptable in California. You can use this magazine in various modifications of their pistols, to be precise 9 of their variants can use this one magazine. The color of the magazine is black which looks super sleek and cool whereas the steel body construction gives it a strong and powerful hold against external factors.
The steel spring allows it to very efficiently and smoothly get detached and then get reattached to the firearm. This magazine is available at San Diego gun stores both physical and online at the best price point of only $49.99!
2. Springfield Compact 1911Magazine 6RD California legal .45 ACP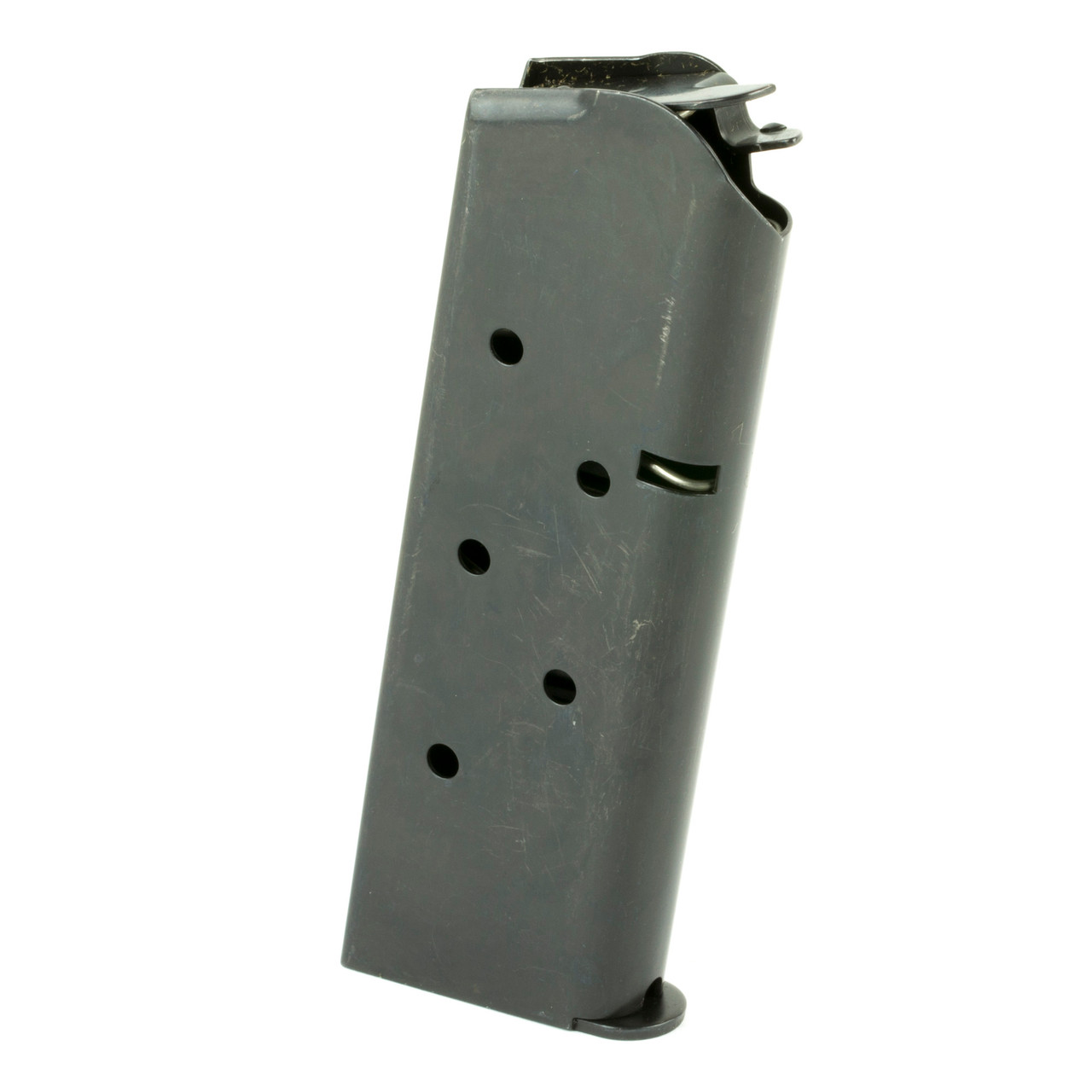 Springfield is known for its 3.3 XD-S models. The real claim to fame has been the fabulous 1911 models. You can have custom models of the 1911, which can take up the price a few notches but all is worth it completely. Springfield has understood the love and admiration that 1911 models have received so they have fine-tuned its actions, barrels, slides, capacity and even the magazines. The gun is very good at self-defense, shooting at the range and concealed carry.
The Springfield compact 1911 magazine is California acquiescent, which means it has 6 rounds that can be fired at any given point. You can therefore add the other amazing features to your gun.
The magazine is made up of stainless steel which gives it durability, reliability as well as a strong hold. The precise manufacturing of these magazines gives a long-lasting performance and the high quality components ensure that the magazine works smoothly without any trouble when loading, firing or releasing the magazine.
Available at a much affordable price point you can have these at mere $24.99 and will not be looking for one for a very long time!
3. Sig Sauer SP2022 10rd magazine California Legal 9mm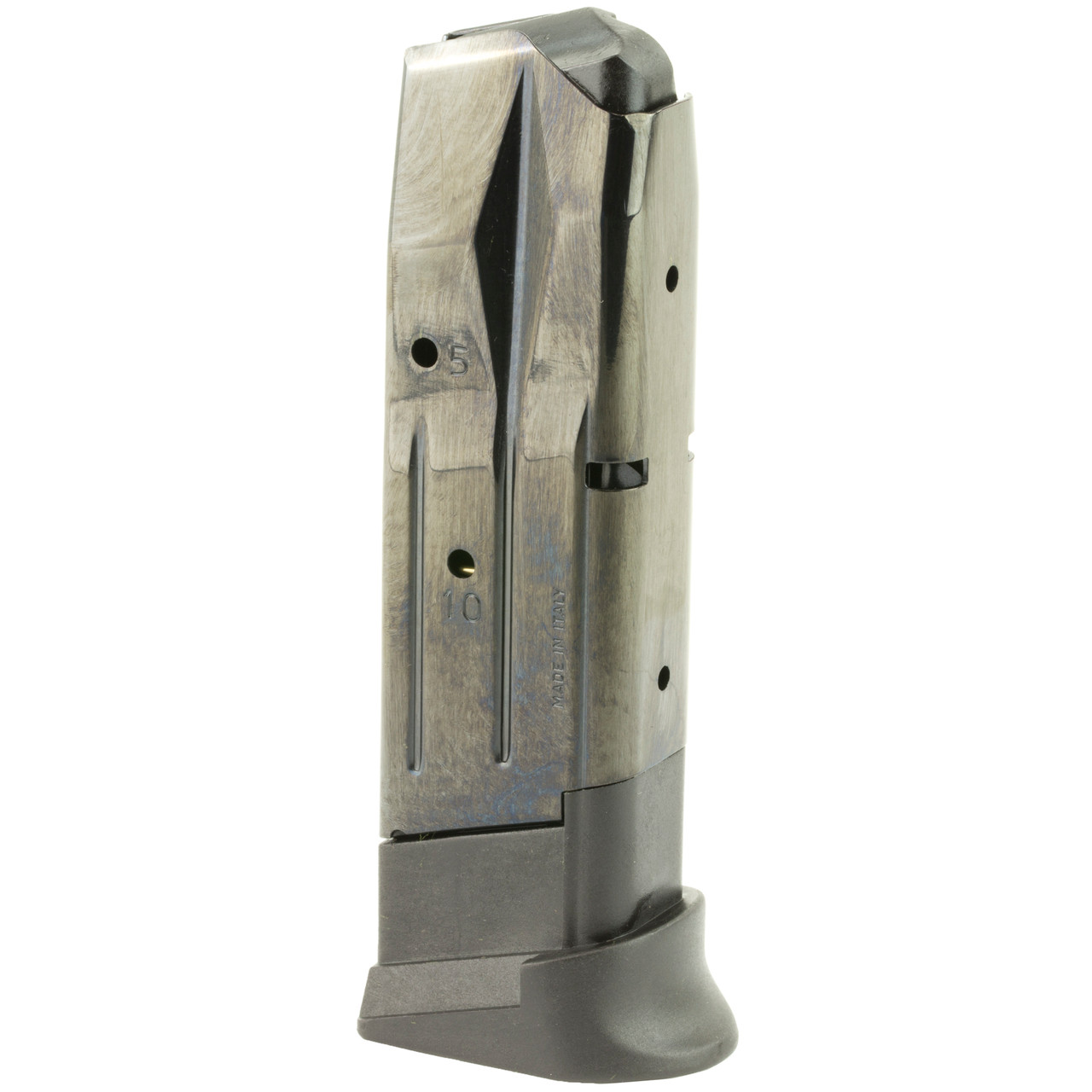 Another powerful name in the world of firearms and ammunition, Sig Sauer is trusted by many when it comes to guns. In fact many people like to purchase their first ever gun from Sig Sauer due to their amazing reputation and unfailing products. The SP stands for Sig Pro which tells us that these pistols are of top quality and just at par with the current demands and requirements.
The Sig Sauer SP2022 guns are compatible with only the factory produced magazines such as this one. But these magazines can also be attached with other models such as Sig Sauer SP2009 and SP2340.
When we say that these magazines are California compliant it means that it has 10 rounds. The black color of the magazine gives it a very refined and exquisite look whereas the stainless steel structure makes it extremely reliable and trustworthy. These magazines flawlessly fit in various models of Sig Sause guns which makes the whole experience quite smooth and quick.
This firearm is a favorite of military personnel, law enforcement agents as well as the general public. It fulfills all their requirements when it comes to a gun and when we talk about a good gun, how can we forget about its magazine, right?
4. ETS Glock 17 10rd magazine California legal 9mm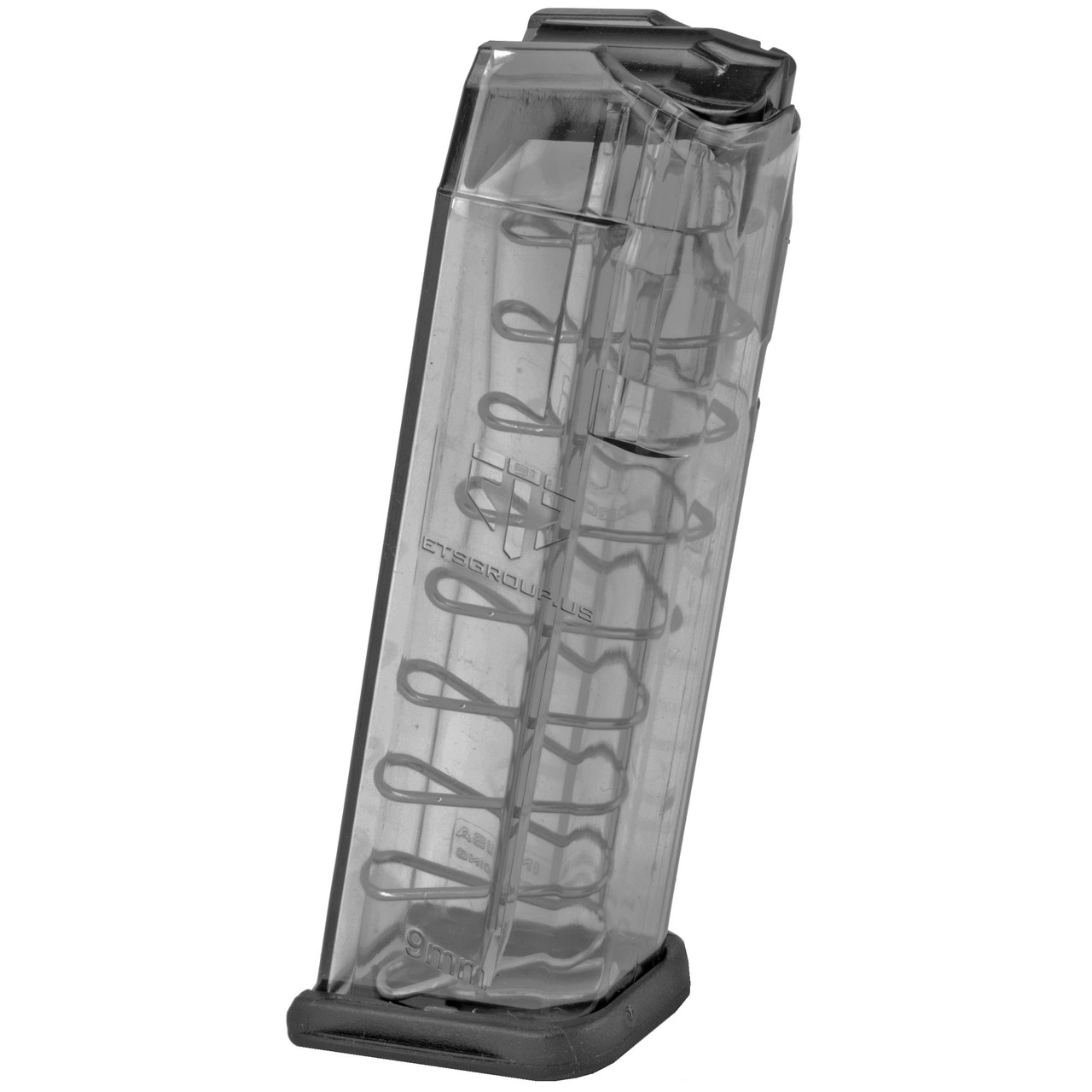 Naming a company that is more prolific than Glock is nearly impossible. But without a good magazine, no gun is actually a gun. When talking about aftermarket magazines, we want something that is affordable, budget-friendly as well as high-quality. Glock is a company that is not just great for handguns but also for the magazines it produces.
The Elite Tactical System (ETS) is one of their most popular magazines due to their unconventional outlook. These mags are translucent which makes them pretty eye-catching and recognizable, they are a brand themselves.
But the clear appearance of the magazine is not just cool looking, it also gives you the opportunity to see through the mag and check the ammunition level without detaching it.
The ETS magazines are translucent but it doesn't mean that you can't drop them, kick them, throw them or toss them, you can do all that and it still won't break a sweat! The 10 round capacity is great for self-defense, conceal carry as well as for home or car defense. This magazine is very affordable and you can find it in just $16.99 which is a steal price.
5. ETS Glock 19 10rd magazine California legal 9mm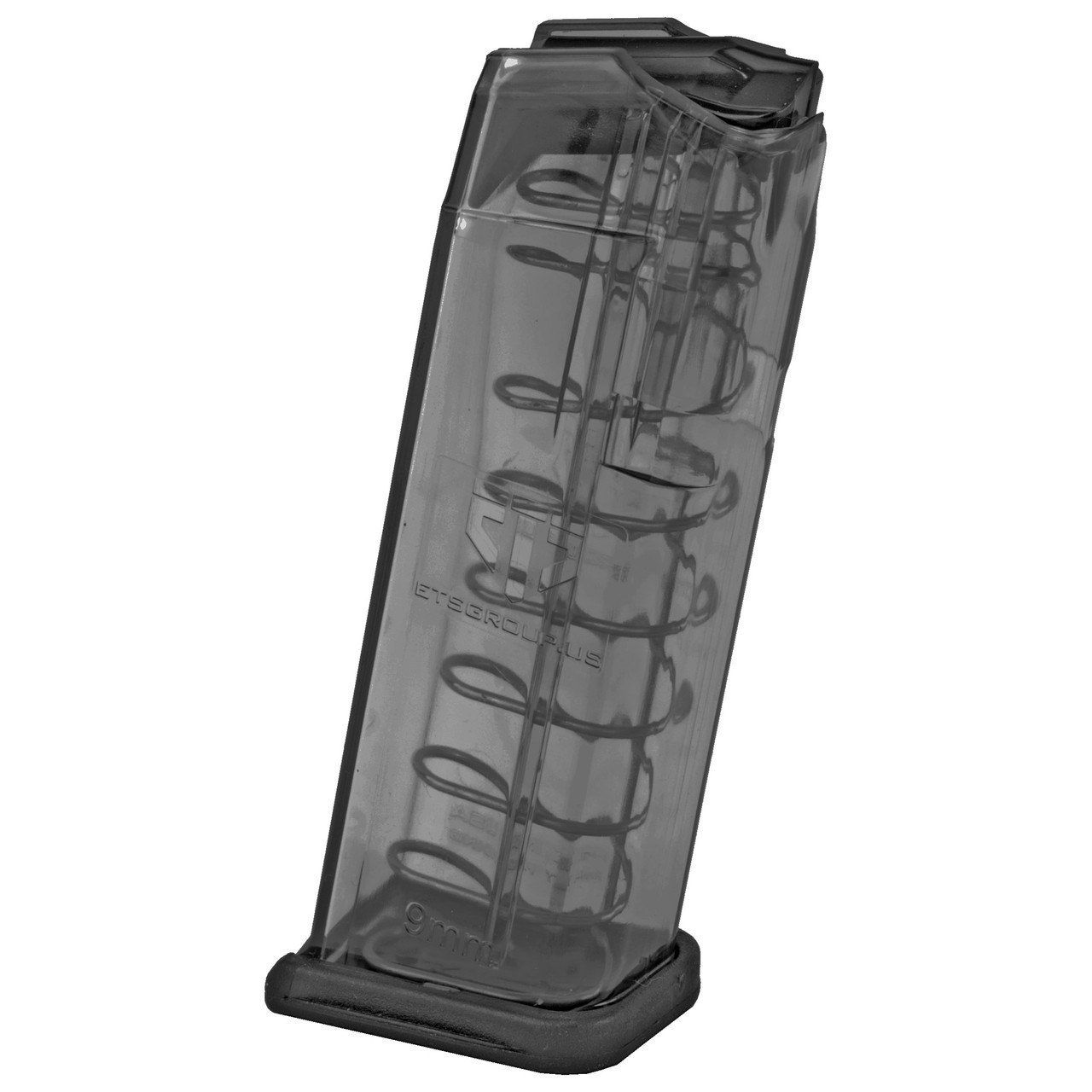 Another noteworthy and trustworthy offering from the renowned company Glock/ This aftermarket magazine is truly pushing the boundaries of the gun world, giving the customer a new approach and new way to use their firearms. The Elite Tactical System (ETS) Glock 19 magazine is compatible with various Glock models like 17, 18, 19, 19 X, 26, 34 and 45!
So you just have to invest in one good quality California legal AR-15 magazine and you're sorted for various guns. These magazines hold 10 rounds of a 9mm, which makes them California compliant although in other states you can get them till 31 rounds! The magazine has extreme 8 inch impact resistance which allows the gun owner to throw, release, kick and drop them in any condition and it won't budge.
Furthermore, the magazines are chemical resistant, heat resistant as well as pretty cool looking due to their transparent appearance. This feature not only makes them stand tall form the other magazines in the market but also allows you to see the level of ammunition without having to release the mag every time you want to check on the ammo.
These magazines are compatible with any aftermarket floor plates for Glock, which is great. This magazine is available at best price on WBTguns or San Diego gun stores.
6. Beretta 92FS 10rd California legal Magazine 9mm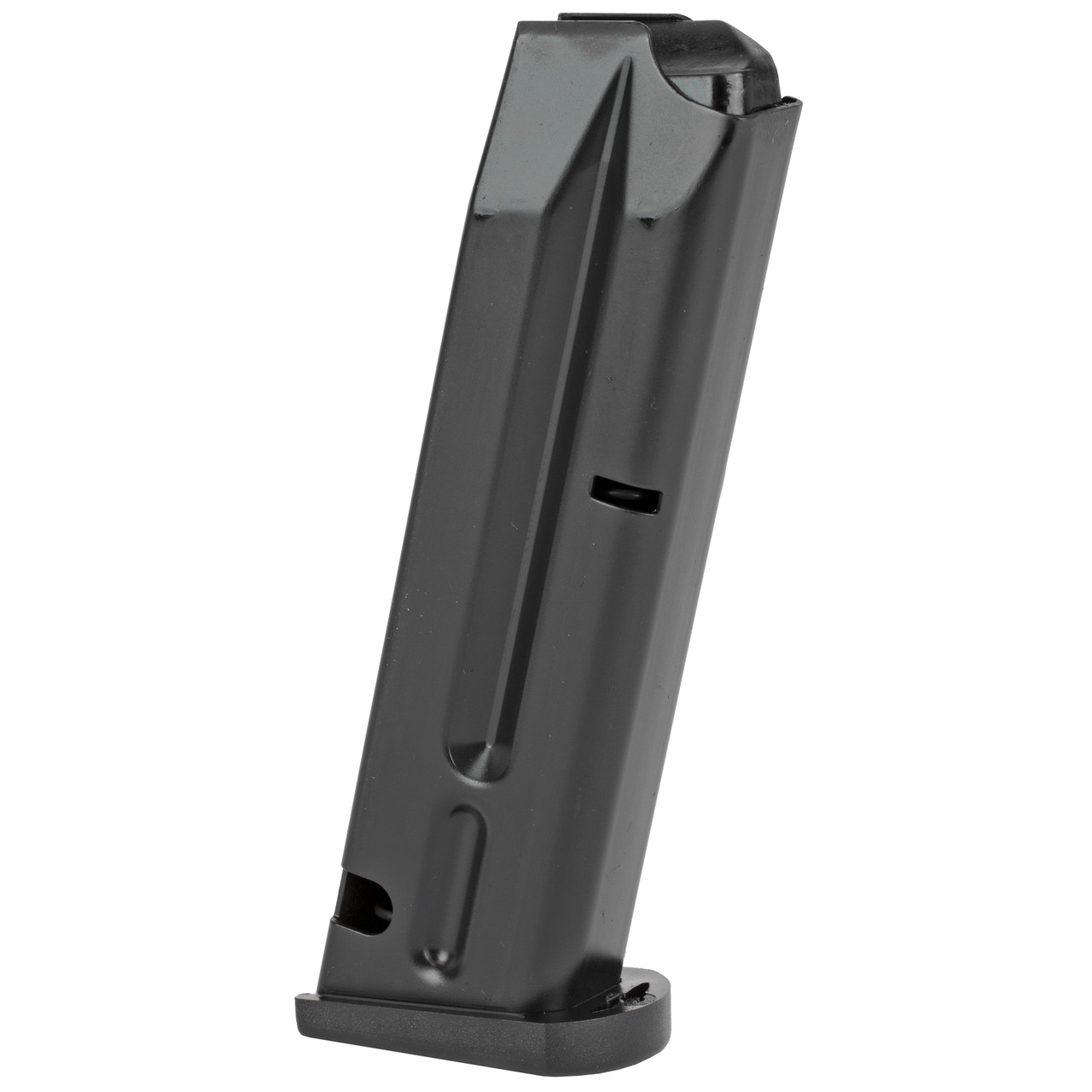 Beretta is a household name when talking about quality firearms. All the gun fanatics can vouch for the fact that this brand has been a crucial part of shaping up their firearms journey.
The Beretta 92FS magazines are a manufactured in Beretta factory, which makes them a perfect fit for various Beretta guns variations like 92S, 92SB, 92F, 92FS, 92A1, M9, M9A1, 90-Two, Billennium, Vertec, Brigadier, Centurion and Elite.
This magazine is specially designed to meet the California state requirements so it contains 10 rounds but these 120 rounds you'll fire will be super smooth with no jams, disruptions, misfires or any such events making sure your shooting experience is top notch.
The magazine 92FS is made with a solid steel body, which gives it extreme resistance against any conditions no matter how rough they are. The steel spring is what makes the release of the magazine a breeze, you can simply release it in one smooth motion, fill it up and be ready to use it in a matter of a few seconds.
The polymer base plate gives the magazine extra stability when releasing and pushing it back in place. The color black is ever so elegant which looks cool with gray, black, silver and even golden color.
7. Beretta PX4 Storm 10rd California Legal Magazine 9mm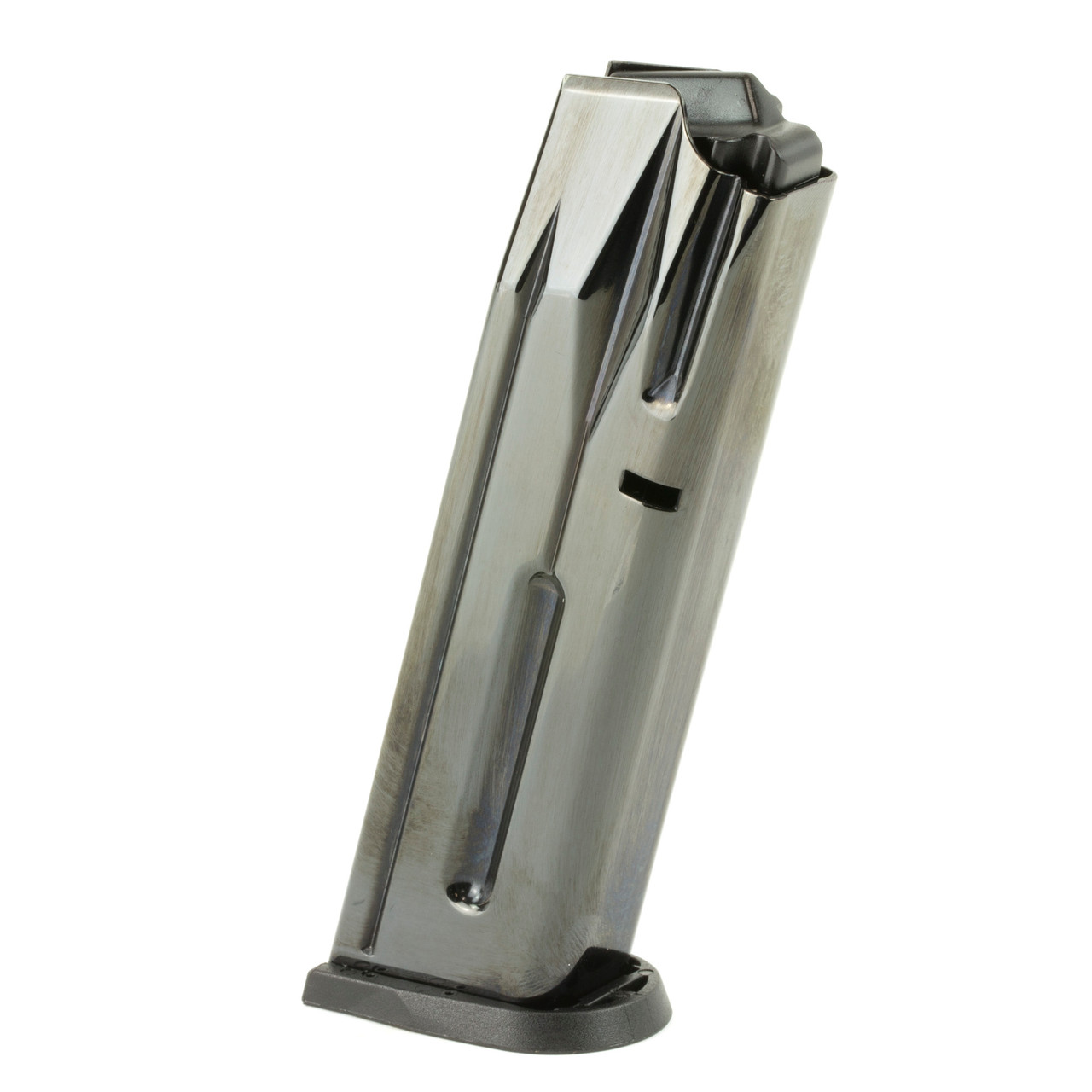 Another solid offering by Beretta, keeping their name alive with the Beretta PX4 Storm magazine. This magazine is fully acquiescent with the California state gun laws which means it can be used by various states residents like New Yorkers and Californians of course.
This magazine is a factory made which means it has been designed especially by Beretta in order to be compatible with its various guns like CX4, PX4 compact and PX4 sub-compact. This magazine is a great replacement for your Beretta models or you can play safe by having this as a spare magazine for the times when you need to fire more quickly. As these magazines are California compliant, it means that the maximum rounds you can fir at any given time are 10 which makes these spare magazines a blessing.
The blue carbon steel construction of the magazine makes it super reliable, solid and resistant. The steel spring is what makes the releasing and attaching of the magazine a super-efficient process in which you won't lose any precious time.
The floorplate of the magazine is made with strong polymer which makes it resistant against tough situations. This design of the magazine is NATO approved which means the law enforcers and military persons also put their trust in this magazine!
8. ProMag Government 1911 10rd Magazine California legal .45 ACP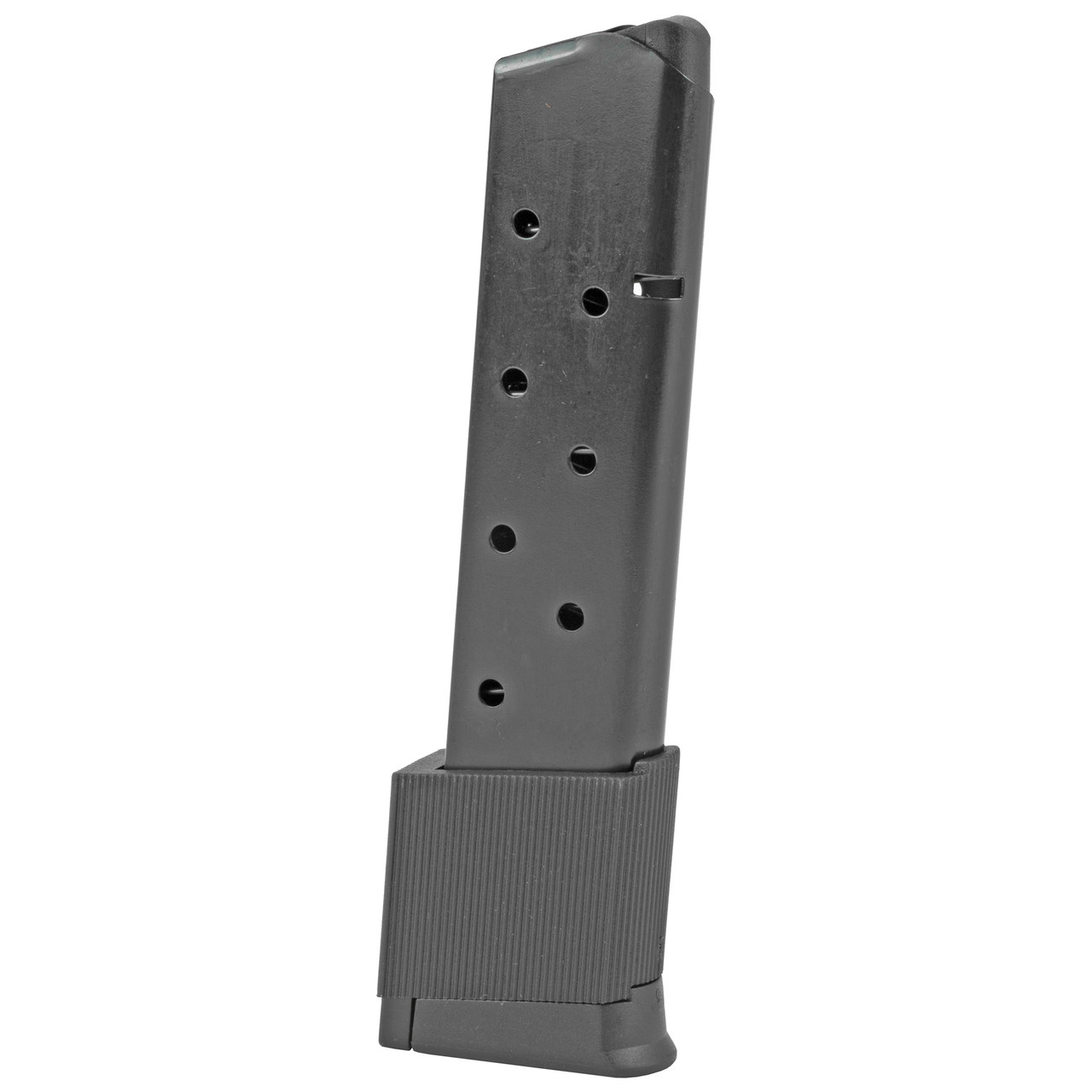 ProMag magazines are manufactured from scratch in the USA and they have a lifetime guarantee against any manufacturer's defects that may appear. At every step of the making, these magazines are checked and then doubled checked so that each time you buy them, you enjoy the same level of quality for which you're paying for. This magazine is an ideal fit for the government approved 1911 which itself is a cult classic.
These beauties are unwavering, reliable, have a crisp trigger, ultra-supportive single stack magazine and are just perfect for self-defense, conceal carry and target shooting. The 10 round capacity of the magazine also makes it acceptable for strict states like California.
Talking about its amazing qualities, the number one thing that pops up which makes it very different from the contemporary options is its heat treated chrome silicon wire spring. This spring is what gives the magazine unmatched resilience and high tensile strength in high temperatures.
The same provides it extreme shock-absorbing abilities as well. The bases and followers of the mag are injection molded from high quality polymers for extreme durability. The black color of the mag gives it a sleek finish and the rugged construction makes it durable, reliable and consistent.
9. Lee Armory AK47 10/30 Banana Chip magazine California legal 7.62X39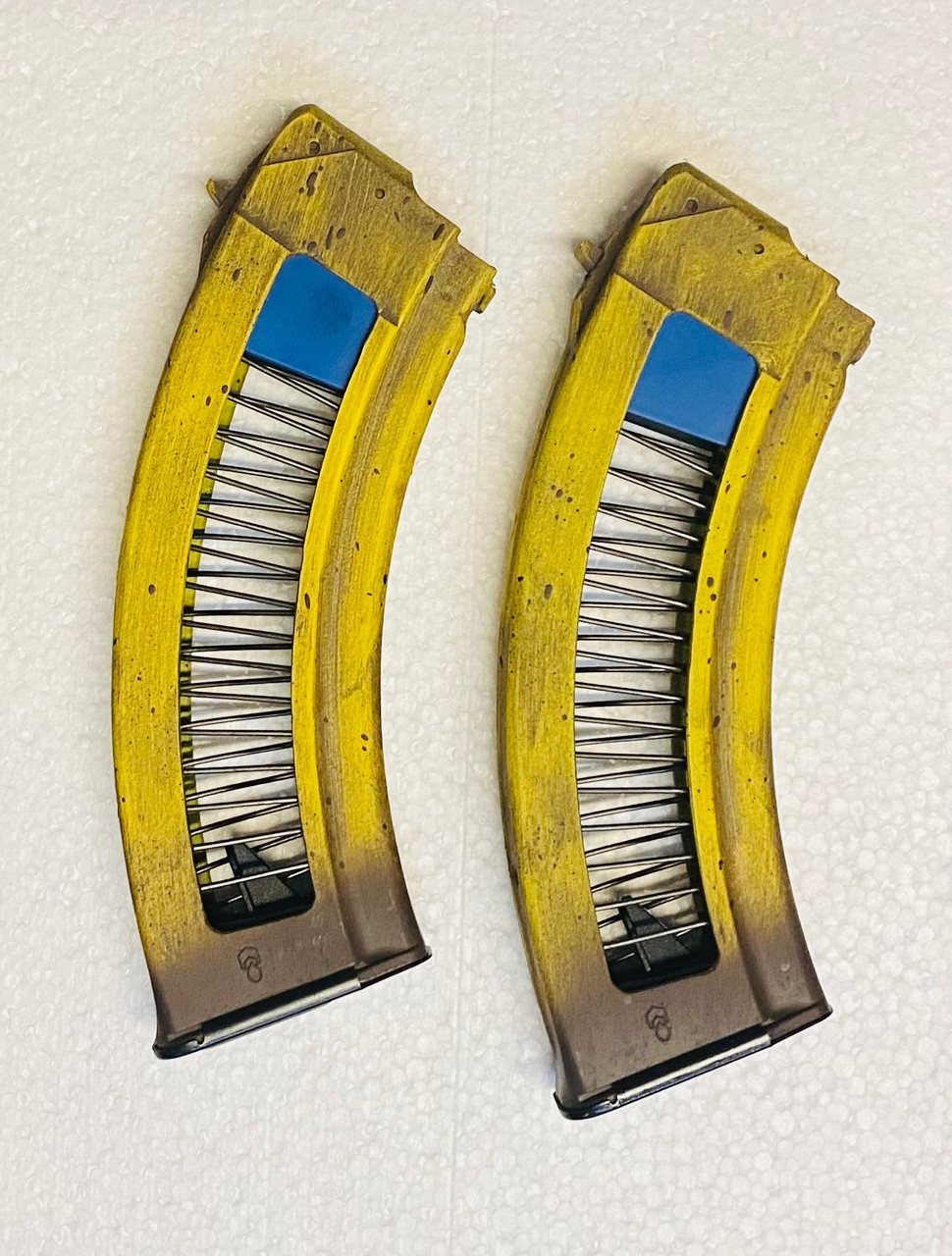 Lee Armory is another great addition to the world of firearms, this company always makes good quality guns and its accessories keeping the other rivals on their toes to maintain a standard. When talking about the most loved, famous and renowned rifle, AK-47s name pops right up. Everything that is offered by Lee Armory is made in-house, which means there is no compromise on quality.
From the barrel to its rivets everything is made with perfection. The AK47 banana chip magazine is no different, it's reliable, durable, resilient and very user-friendly. The banana chip design is unique and a highlight in itself, the sharp canary yellow color makes your gun stand out from the crowd.
Apart from the color, it also has amazing features you don't want to miss out on. There are no sharp edges on the magazine which is ensured by CNC cut and hand deburred. Furthermore, it's super easy to track your round in the magazine, which saves a lot of time, energy and effort.
The base of the magazine is imported Bulgarian slab side polymer with steel lugs and feed lips. You can find it in a 10 round magazine as well as 30 round magazine both of which are California compliant.
10. HexMag Series 2 10/30rd magazine California legal .223/5.56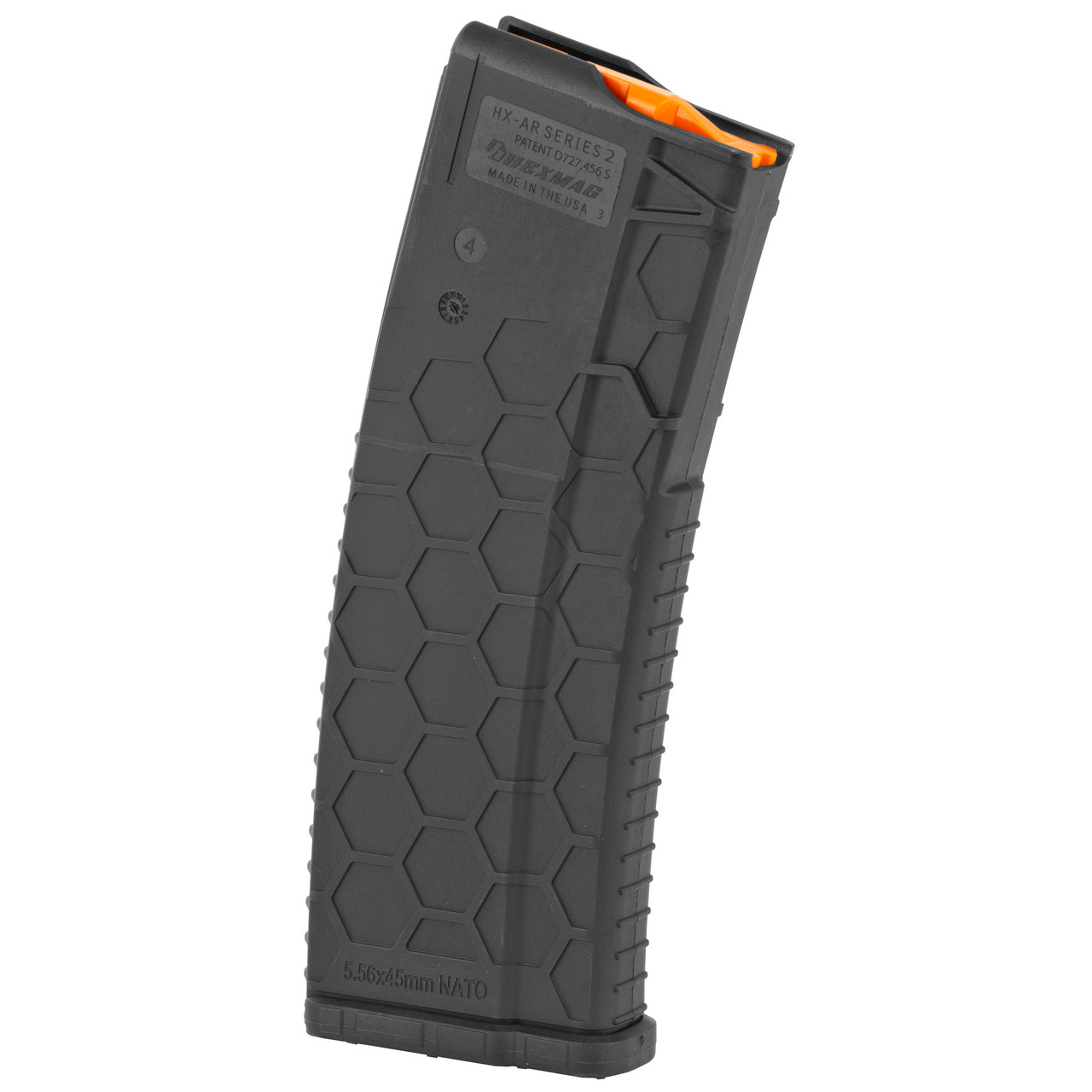 The series 2 HexMag is a new and improved version of the first ones that were released in the market. If you're looking for an affordable magazine option as a spare one then this is probably the most appropriate option out there. Crushing the market with a very competitive price of mere $13.99, the HexMag series 2 is a killer magazine (pun intended). One of its biggest USPs is the honeycomb, hexagonal style pattern on the magazine which makes it super ergonomic and user-friendly.
This pattern is way better than the usual waffle pattern as this has more ridges aiding in snagging with your fingers. It has an orange button at the bottom of it which is not just used for taking the magazine apart it is also a way to label your magazine so that it doesn't get mixed up with the others.
You might be concerned with how easily the magazine comes apart so it can explode when you release the magazine and it hits the floor, concrete, ground or any rugged terrain for that matter.
Well the magazine may be easy to release but the polymer material gives it super strength and the thicker feed lips prevents it from exploding. Lastly, the magazines are extremely reliable and dependable.
11. Magpul PMAG M3 Factory 10/30rd magazine California legal .223/5.56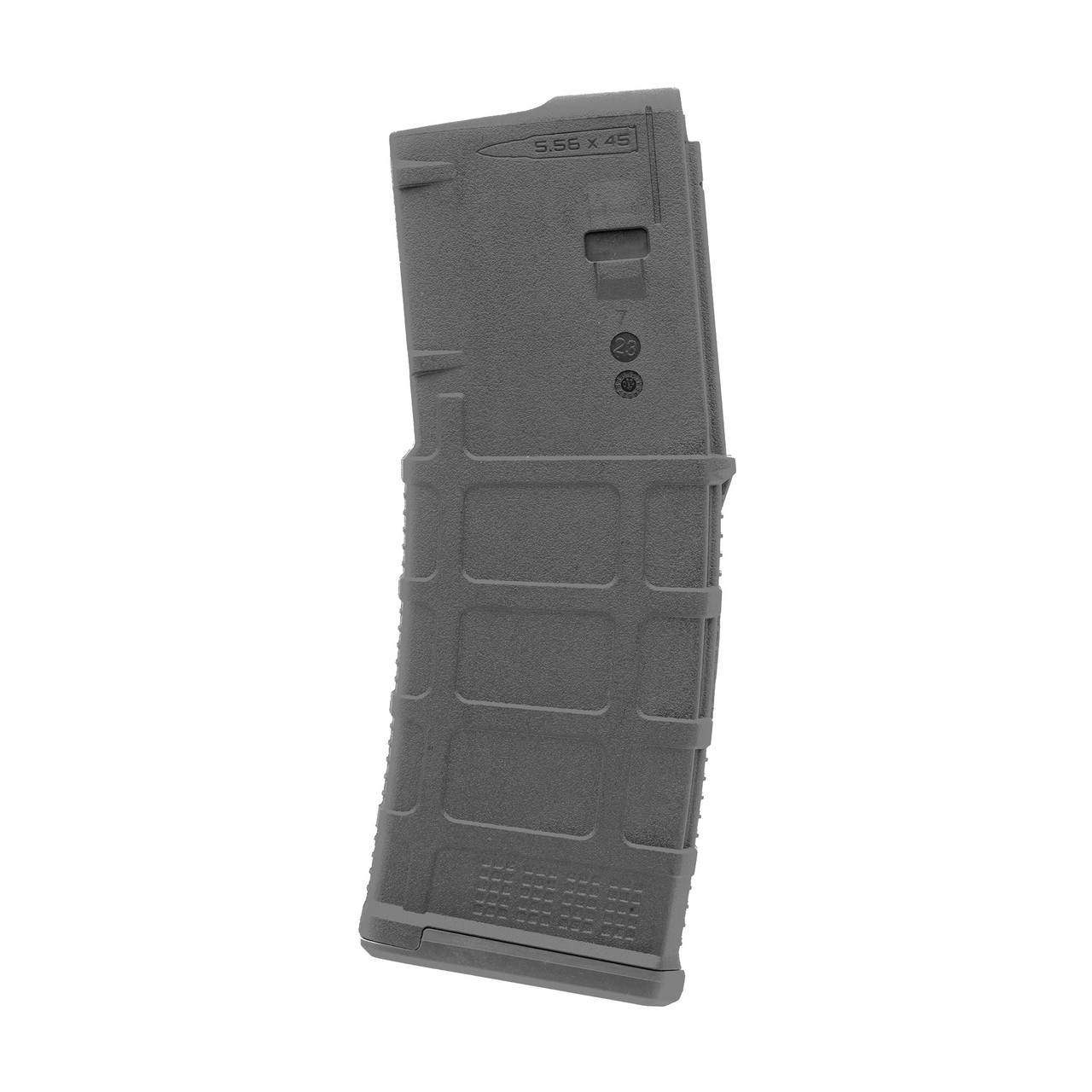 The Magpul PMAG is a perfect magazine for those people who live in strict gun rules states such as California. This magazine allows them to enjoy the 30 round magazine without any illegality. The best of both worlds scenario is doable due to a proprietary lock plate that reduces the maximum capacity of this 30 round magazine to the legal 10 rounds.
There is a permanent aluminum rivet that secures that and a lock plate tab is also there to indicate the 10 round capacity, so that there is no confusion left. This style of magazine gives the look of a 30 round mag but is instead a 10 round which is amazing.
But the 30 round magazine look isn't just the only great thing about this mag, it has several other features that makes it a hero. This next gen PMAG has strong impact, crushing resistance against any kind of terrain and a strong stainless steel spring that ensures a smooth feeding as well as a super convenient release.
Curve geometrical pattern makes it ergonomic and easy to grip even in tough climatic conditions. You can find it at the best price of $19.99 at WBT guns!
12. FN SCAR 17 10/20 magazine California legal .308/7.62X51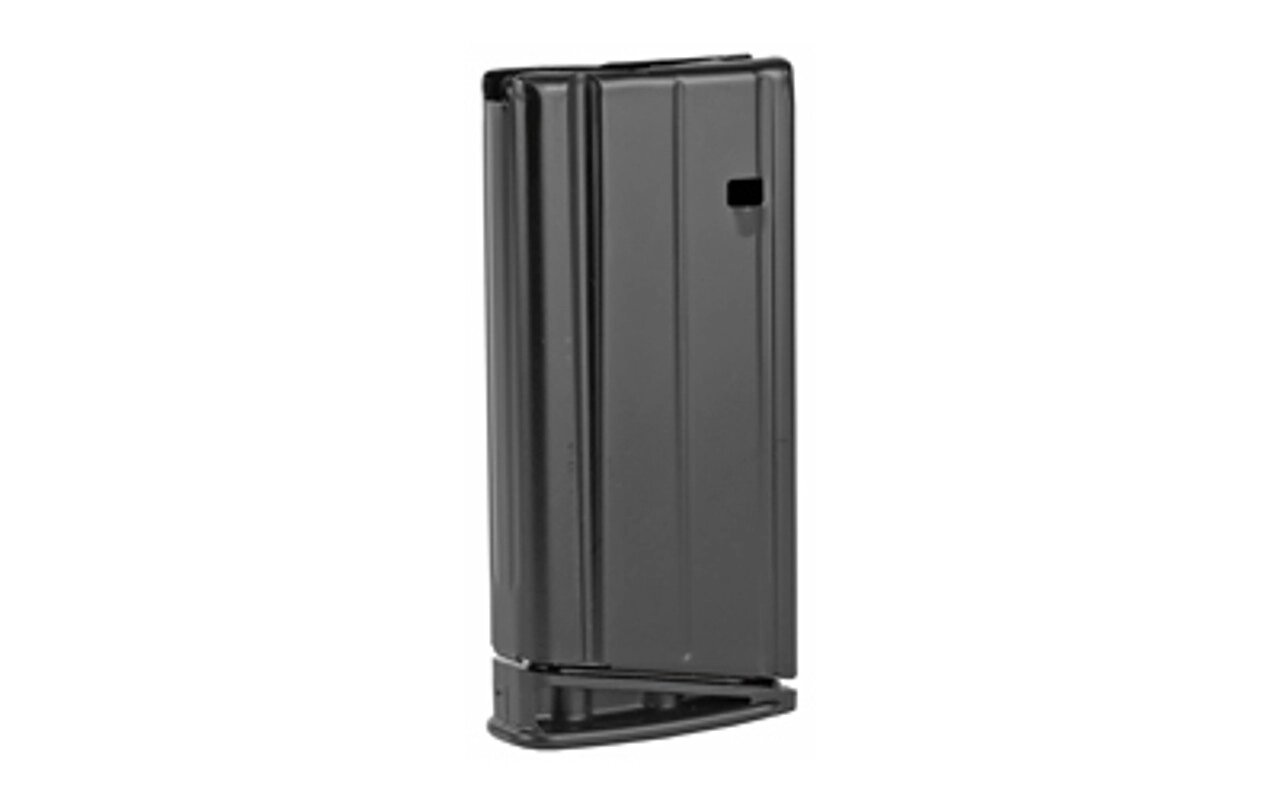 FN SCAR 17 magazines come with a high price point just like other firearms and accessories but the reason for its high price point is totally justified and that is why special forces and military loves to use it. The most prominent thing about this magazine is its big features that allow extra grip and can easily be handled with the gloves on.
All of its components are made with no compromise on quality and the precise manufacturing of each part makes it super reliable and the number one choice of new shooters, experienced gun owners and the people who know the price of quality.
This magazine is there to serve you for a lifetime, so it's basically a lifetime investment which most definitely makes it worth the price. Even after firing hundreds of rounds from it, not a single report of any kind of jam or misfire has been reported!
Another great thing about this magazine is ambidextrous, so anyone can use it and fall in love with this beauty. The polymer base and steel construction gives it super strength and makes it durable and reliable. I would recommend it if you are ready to pay the price of superb quality.
13. American Tactical GSG-16 10rd magazine California legal .22 LR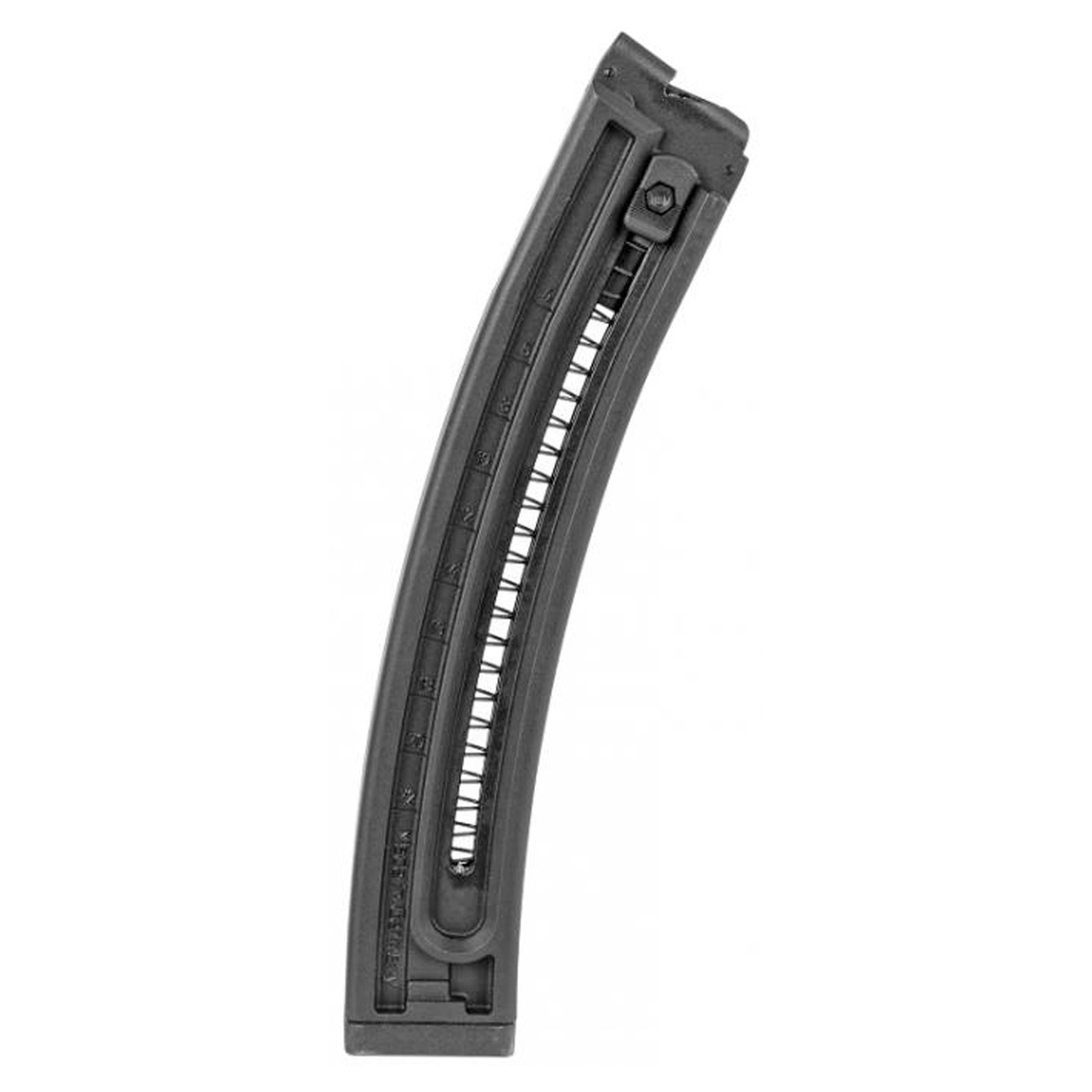 GSG-16 is the newest cool offering by the American Tactical, this rifle has a feel of tactic-cool but don't be mistaken from its looks it is just as deadly and lethal as any other rifle on block. The American Tactical is a worldwide importer and a US based manufacturing company of all kinds of firearms, its aftermarket parts and other accessories.
The American Tactical GSG-16 magazine is a great replacement of any of your GSG models particularly the GSG-16. It can be bought as a replacement or as a spare magazine in case of emergencies.
When talking about its amazing features and qualities, this magazine is made with polymer that not only gives it a sleekness but also ensures its super strength. It makes this magazine a reliable, durable and long lasting companion for all your shooting journeys.
This magazine is fully compatible with California rules with not more than 10 rounds to offer. Although for the states with not so stringent rules it can be bought for 22 rounds as well. The price of this magazine is also very economical where other magazines start from $40 -$50 this one is available for only $29.99 which is a steel price for what it's offering!
14. ProMag SAIGA 12 10rd Magazine California legal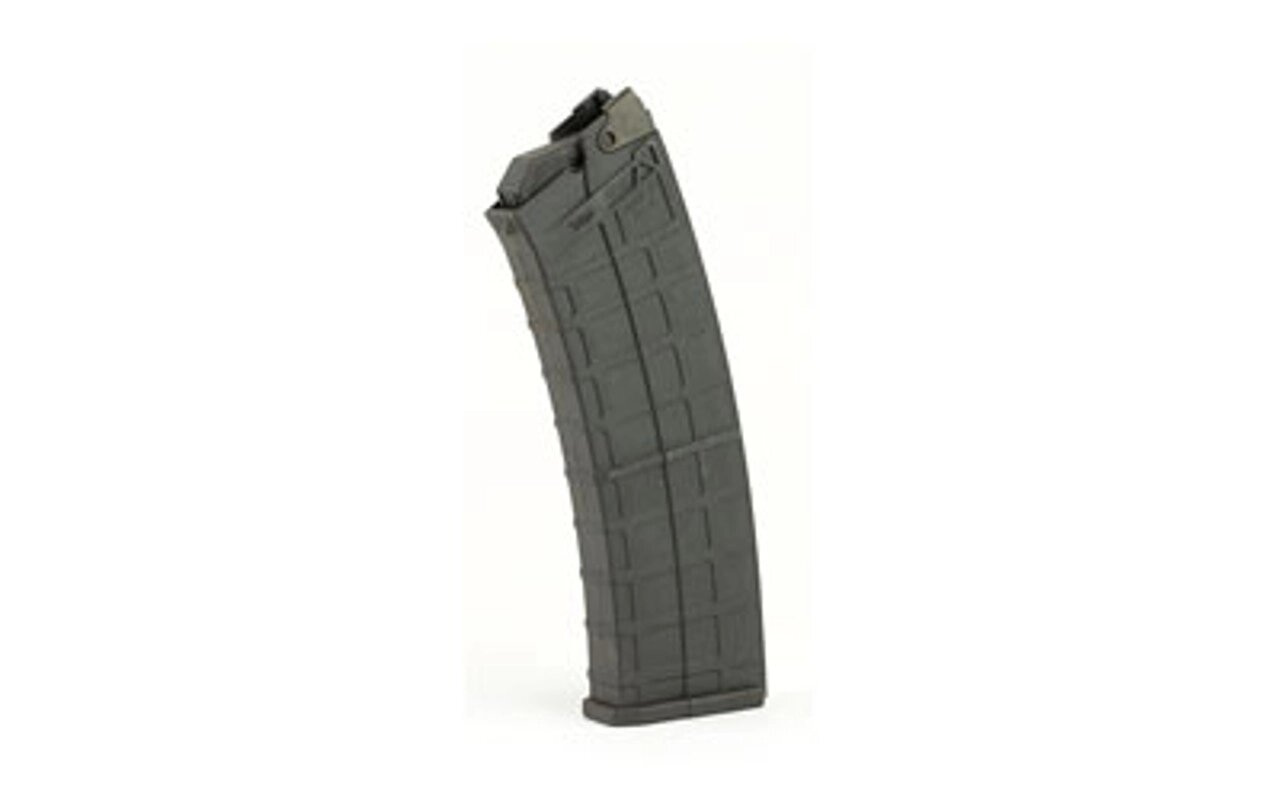 ProMag is a well-established name when talking about firearms and its accessories. This company takes pride in making its products the old school way by checking and double checking each product to give the same quality and luxury people are paying for so many years.
The ProMag SAIGA 12 magazine is no different as it also comes with a lifetime warranty of any manufacturer's defect! But of course that is not the only reason to purchase it, compatible with any SAIGA or SAIGA 12 models, this magazine is extremely reliable, consistent, durable and efficient.
The slight grooves on the magazine give a perfect grip on the hand and also ensures that it remains ergonomic. California compliant, the magazine has 10 rounds and does not require CA compliant parts or modifications. The body and the followers of the magazine are injection molded made from light weight, strong and durable polymer material.
The heat treated chrome silicon wire is used for making the springs that allows quick and easy feeding of the magazines as well as a smooth release. You can fire hundreds of rounds with the magazine and it won't stick or misfire a single time. Get it at the best price from WBT guns!
Conclusion
Buying guns in California is no longer a tough or an impossible job. With the options given above you can now choose from a wide range of amazing firearms options as well as magazines. WBT guns offer not just the above mentioned but also many more magazines according to your choice and preference.